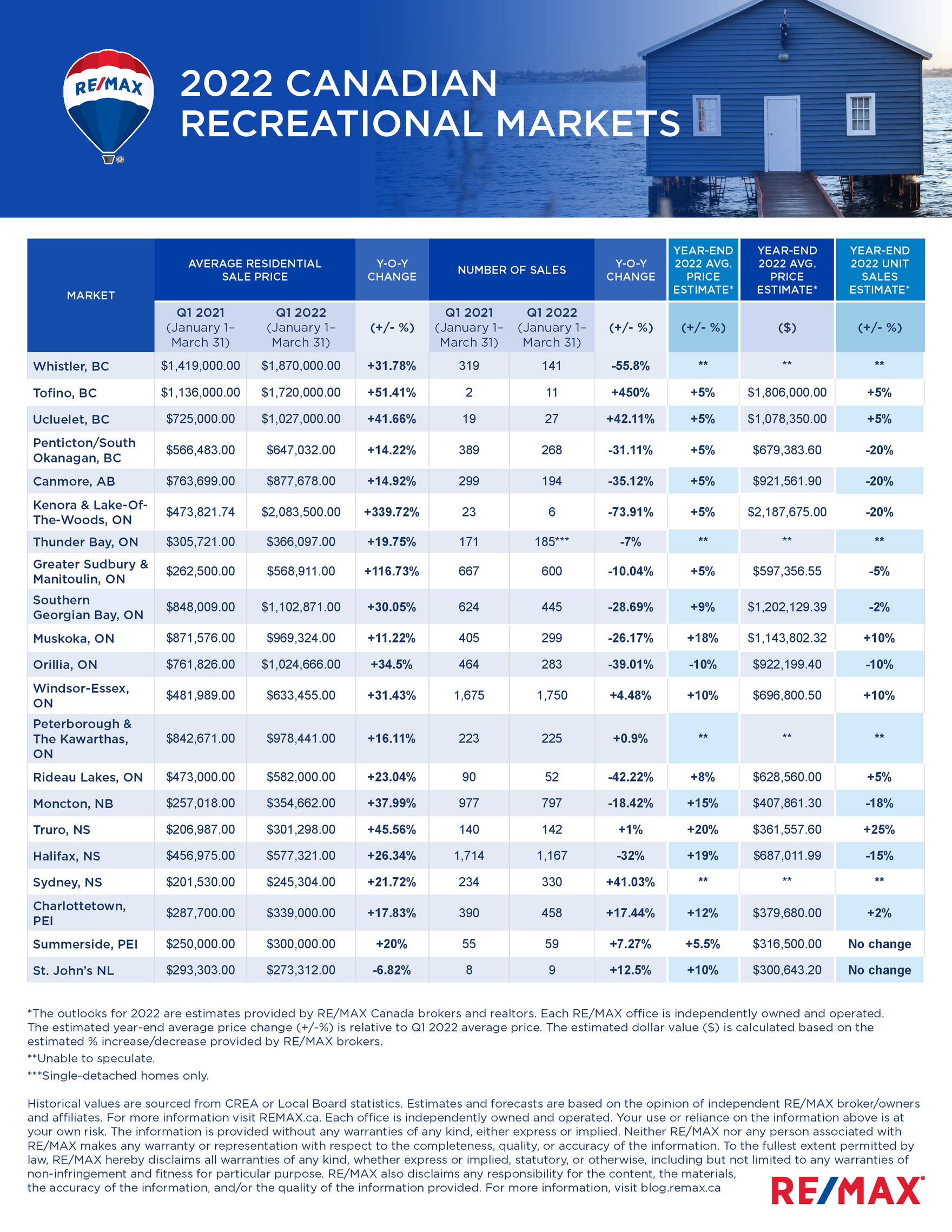 Cabin and Cottage Trends Across Canada Indicate Recreational Markets a Magnet of Affordability and Lifestyle to Both Leisure and Permanent Homeowners and Seekers
RE/MAX Canada anticipates average residential prices in recreational markets to rise up to 20 per cent for the remainder of 2022
39 per cent of Canadians living in recreational markets are drawn to their affordability, while lifestyle is also a key factor, such as access to water (37 per cent), access to outdoor recreation (33 per cent), and low-density neighbourhoods (31 per cent).
75 per cent of Canadians living in recreational markets are happy with their quality of life.
Growing interest and activity in recreational markets is a concern for current residents, with 54 per cent of those living in recreational markets worried that a rapidly rising population will impact their community's charm and liveability, and 41 per cent showing concern about future affordability.
According to a Leger survey conducted on behalf of RE/MAX Canada, 75 per cent of Canadians living in recreational markets are happy with their quality of life. Sales activity in these regions has been driven in large part by young couples and families, retirees, out-of-town buyers and investment buyers, according to a supplemental survey of RE/MAX brokers and agents, who said waterfront properties with open space living and large acreage are in greatest demand.
"Historically, recreational properties are held within and passed down through families, which has been a strong contributor to low inventory in those markets," says Elton Ash, Executive Vice President, RE/MAX Canada. "With the prospect of declining affordability for many homebuyers across the country, more and more Canadians are choosing to live in recreational areas because of the relative affordability they offer. In many cases, this has resulted in heightened demand for homes in regions that were already experiencing low supply, and could soon be facing more acute challenges of a growing population."
Among the impacts are rising residential prices. In fact, the majority (76 per cent) of RE/MAX Canada brokers and agents are anticipating residential price growth up to 20 per cent through the remainder of 2022. Markets such as Kenora/Lake-Of-The-Woods and Greater Sudbury/Manitoulin Island experienced exponential year-over-year price appreciation of 339.72 per cent and 116.73 per cent, respectively. Local RE/MAX brokers report that prices in these areas will likely remain accessible for many looking to enter the housing market, especially out-of-area buyers coming from larger and more expensive cities across Canada.
Despite Canadians returning to in-person work, the trend of inter-provincial migration into recreational markets as a primary place of residence is likely to continue for the remainder of 2022, with liveability and affordability propelling the movement, according to RE/MAX brokers and agents. While many current residents are expected to remain in the area – signalling added pressure on inventory in recreational markets – the Leger survey reveals that 24 per cent of Canadians who live in a large urban city would like to purchase a recreational property within the next two years. Meanwhile, many of those living in a recreational market have no plans to relocate to a bigger city (population size under 100,000, 43 per cent); or to a large urban city (population over 100,000, 50 per cent).
Western Canada Recreational Market Trends
Western Canada's recreational markets are all skewed toward sellers, including British Columbia's Tofino, Ucluelet, Whistler and Penticton/South Okanagan regions, as well as Canmore, AB. Demand in these areas has continued to thrive, with recreational properties for sale in Whistler and Canmore receiving multiple offers in a trend that has been exacerbated by dismal inventory. Although many pandemic-related restrictions have lifted, RE/MAX brokers in these regions anticipate continued interest from Canadians as shifting attitudes and high gas prices are prompting many to vacation closer to home. Average sale prices are estimated to increase by five per cent in Tofino, Ucluelet, Penticton/South Okanagan and Canmore in the remainder of 2022.